Regulator Christine Tabbert and retired investigative reporter David Baines will discuss securities fraud in Canada at next month's OffshoreAlert Conference on financial intelligence and investigations in Miami Beach.
Tabbert is the Deputy Director of Operations in the Enforcement Division of the Ontario Securities Commission, while Baines spent 25 years at the Vancouver Sun newspaper, specializing in unethical and illegal conduct in the securities market.
They will co-present a session entitled 'Focus on Canada: Latest Developments in the Fight Against Securities Fraud', which will focus on trends, developments and initiatives in the Canadian securities fraud industry, including taking a look at the Ontario Securities Commission's Whistleblower Program, which was launched in 2016 and is the first of its kind for a Canadian securities regulator, offering rewards of up to C$5 million for information on violations of Ontario securities law.
Or Email Us | Call +1 305-372-6296 | View Agenda
'Focus on Canada: Latest Developments in the Fight Against Securities Fraud' is one of more than 20 sessions taking place at next month's OffshoreAlert Conference in Miami Beach, Fl. The conference will cover a broad range of topics concerning high-value international finance that are aimed at investigators, providers, and buyers of products and services.
Other sessions include:
The Emperor Has No Clothes: The Great Cryptocurrency Scam;
Beyond The Kool-Aid: Blockchain Reality vs. Fantasy;
Offshore Intelligence: Beyond The Promotional Material;
Enriching Domestic & Foreign Whistleblowers: The Growth & Spreading Reach of US Programs;
A Whistleblower's Guide to The Bounty: How To Confidentially Blow the Whistle & Qualify for Multi-Million Dollar Rewards;
Crooks 'R' Us: The Last Havens of Secrecy & Fraud;
How to Enforce Foreign Judgments in the USA;
How To Get Your Claim Financed by Litigation Funders;
What's Next in Offshore Tax Enforcement?;
J5: Tearing Down International Barriers;
The Inside Story of Senator Carl Levin's Offshore Investigations & How They Drove AML and Tax Reforms;
An Introduction to International Value Recovery;
International Value Recovery: Emerging Issues & Developments;
Detained in Dubai: The Risks of Doing Business in the Arabian Gulf;
How to Detect & Avoid Investment Fraud;
The Demonization of Russia: Justified or Propaganda?;
Bill Browder: Hero or Villain?;
Focus on Latin America: The FBI's New International Anti-Corruption Task-Force;
Regulating Cryptocurrency: Security, Commodity, or Currency?;
Litigation Funding: An Update on Returns, Legal Decisions, & Emerging Issues; and
Selling Scams to Foreigners: Inside SE Asia's Boiler Rooms & Alternative Methods to Recover Assets.
The 17th Annual OffshoreAlert Conference North America will take place at the luxury, boutique Miami Beach EDITION hotel in Miami Beach, Florida, on April 28-30.
Details of our agenda, speakers, and other information can be viewed at www.oacmiami.com.
---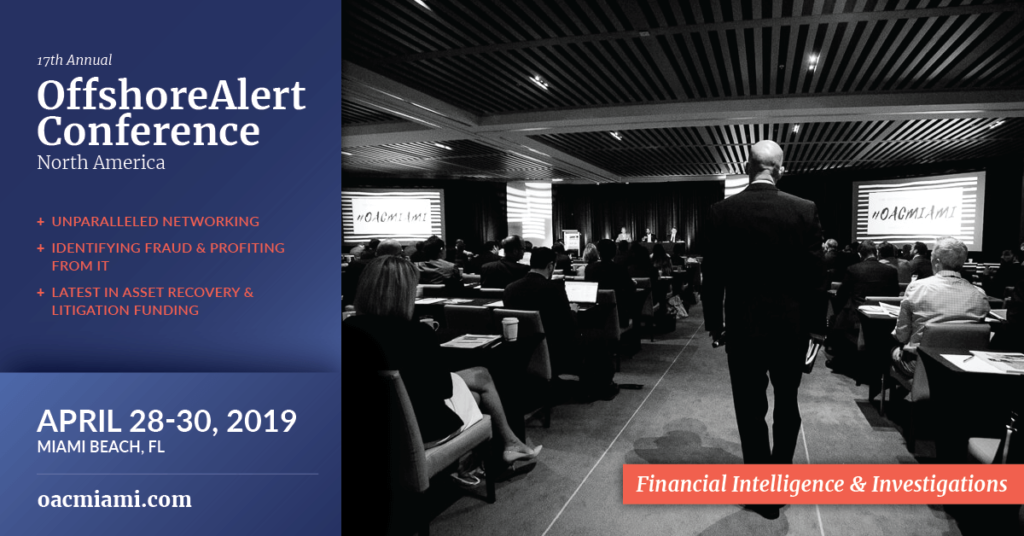 ---
Or Email Us | Call +1 305-372-6296 | View Agenda
---
vGlobal Email List – Inline